Island Hoppers - Elliana Moore and Capturing the Rhythm of the Islands
Cinematographer Elliana Moore teamed up with Hawai'i photographers to expand her perspective and capture a more authentic vision of Hawai'i.
Elliana Moore wasn't thinking about a career in Hawai'i's film industry when she took a black-and-white photography class at Kapi'olani Community College on O'ahu. Elliana fell in love with the entire process of capturing images on film, developing and printing them by hand. During that time, she was also writing a screenplay for a creative writing class. Elliana realized that she could tell robust, interesting stories with many layers and voices by combining film and writing. Today, cinematographer Elliana Moore shares her perspective of Hawai'i's richness and culture on the big screen, a job that keeps her bouncing from island to island. And even though she's working on motion pictures, she never leaves her camera at home. Recently she met up with Bryce Johnson and John Hook for some work-play fun, and we caught up with her to talk photography, video, and island hopping with friends.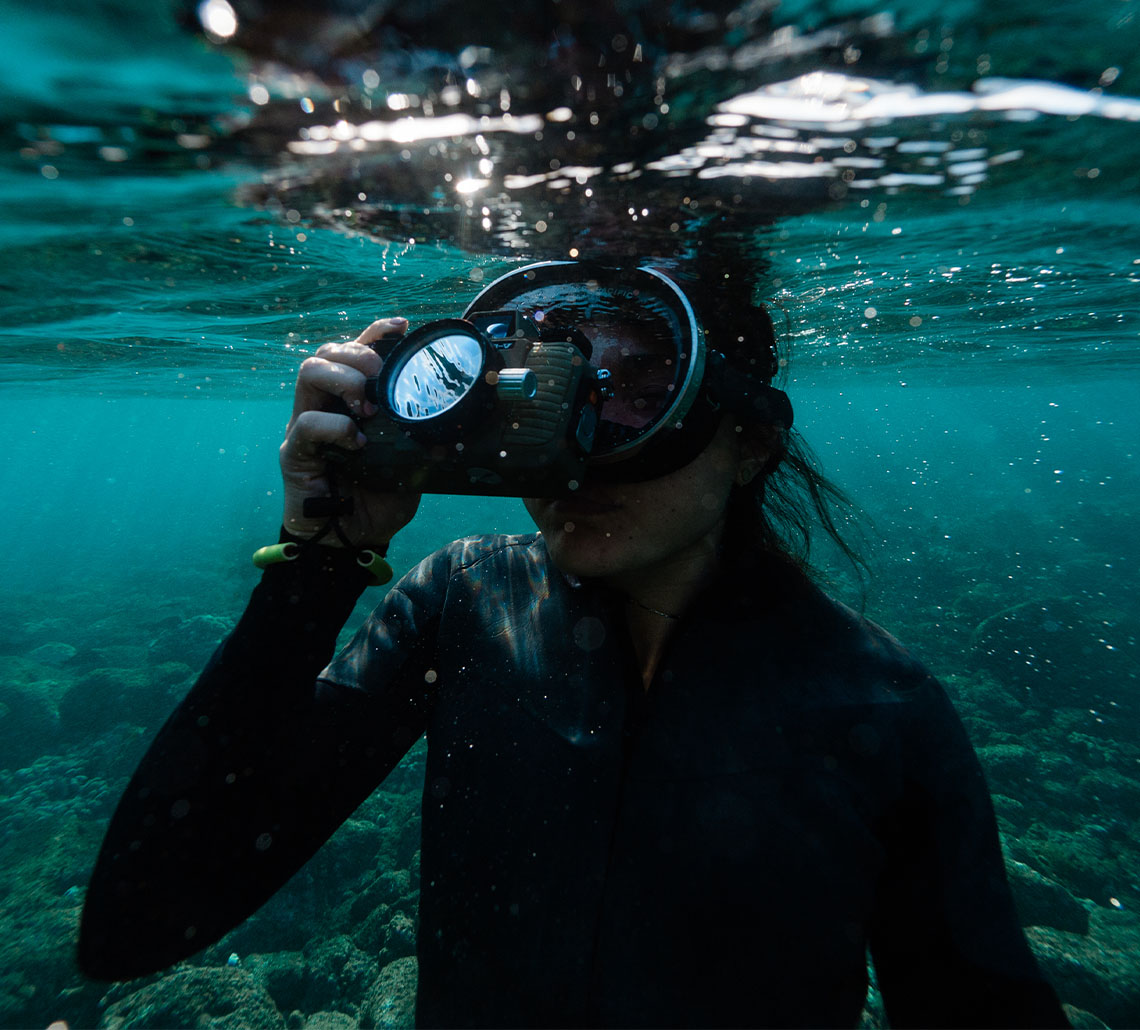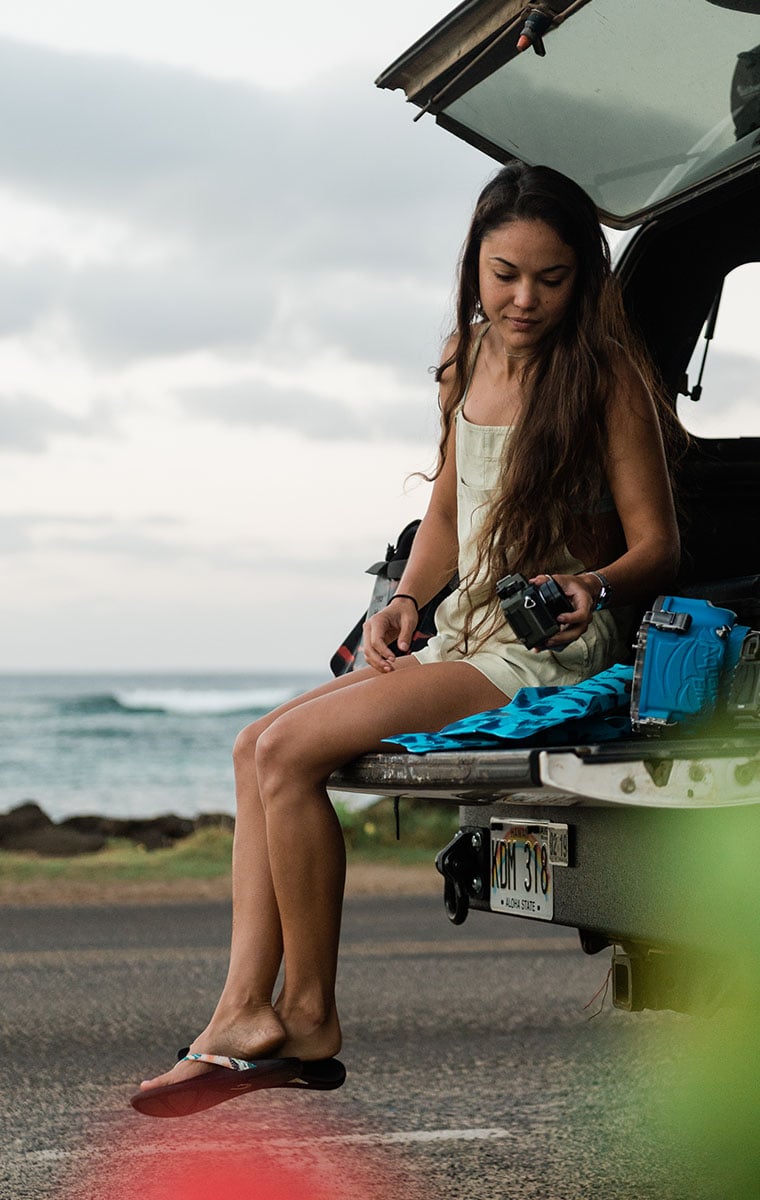 Photos by OluKai
How did you transition from shooting pictures with a camera to making movies?
There was an assignment that I had in my creative writing class about the juxtaposition of certain things. So I double-dipped that assignment with a photo assignment I was working on where I placed two images next to each other. Even though each image has its own meaning, I realized that when you put two specific images side by side, there's this third meaning that comes to light that wouldn't have existed without those two visuals next to each other. And that got me thinking about doing something with video and realizing the power of film and motion picture. I did a two-year film program at the University of Hawai'i, which really focused on storytelling and screenwriting.
What inspires you to pick up a still or video camera?
The power of storytelling, being able to share knowledge with people that they wouldn't be able to experience otherwise, is what draws me to film. Storytelling is sharing someone's legacy. Some people have things that are so undeniably theirs, and that's their story. There's so much power behind every bit of content, which can be a very empowering thing.
What was it like island hopping with Bryce and John?
There was so much collaboration, and that's what I love about this whole process. You can give 10 people the same camera with the same lens, put them in the same location, and they're going to come back with completely different results. That's such a cool thing about photography and film work—everybody has such a different perspective. And it's always nice to shoot with people who have so much energy. When Bryce and John work together, they're constantly bouncing ideas off of each other.  It's cool to see how one idea can evolve into something else much greater. One day we were absolutely freezing at the top of Haleakalā, the next day we were up in a helicopter shooting waterfalls and coastlines, and then we were back down at the beach in the sun. There's so much to be explored and shared in Hawai'i. When I think about the bright sun and sand, what kind of emotions those portray versus being on top of a cold mountain or looking at an island from an aerial view as if you're a bird, there are so many different emotions that can be portrayed through each of those different perspectives.
How does collaboration help you as an artist?
It reminds me to always be open and perceive the different ideas that the people around you have, even if it's something that maybe you would never usually do. Once you give it a try, if you like it you end up putting your own little personal flare on it.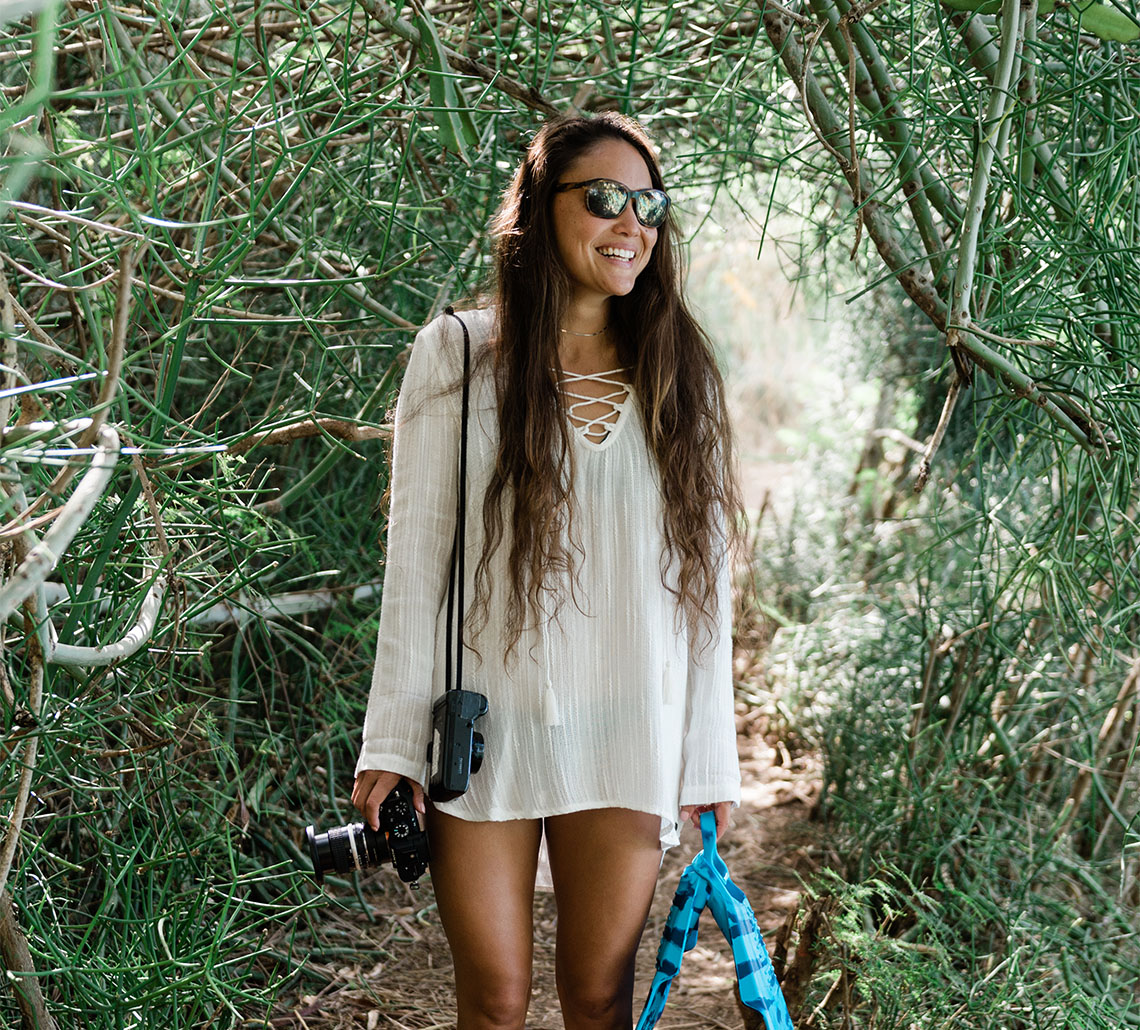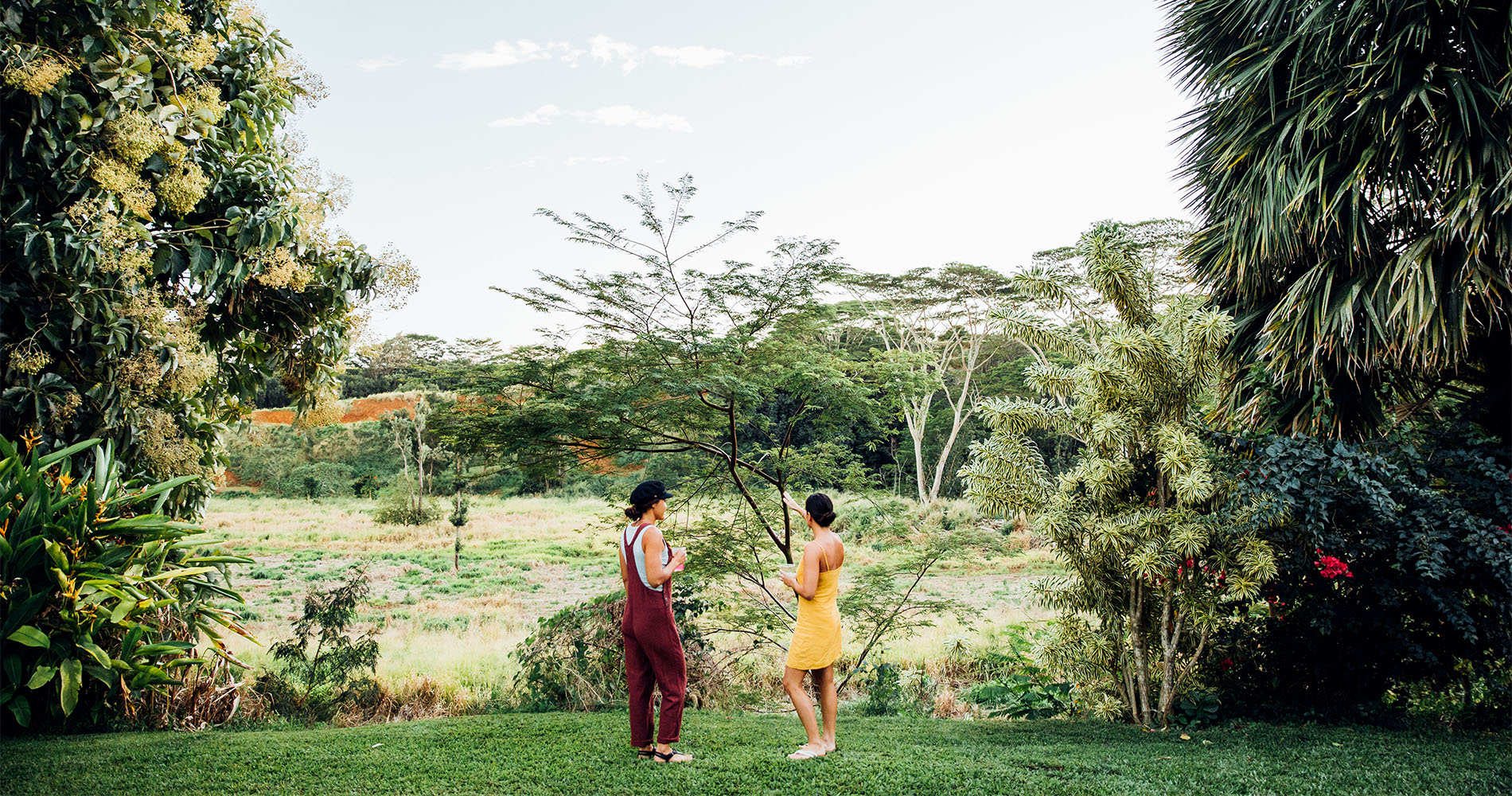 Photos by OluKai
Having grown up in Hawai'i, do you still get excited to island hop?
My favorite jobs are the ones that bring me to the different islands. It's really crazy, the islands have a similar feel, but they're all so different and unique in their own way. I think growing up in Hawai'i and the experiences and knowledge that it's given me is not something that you'd never find on a postcard. It's not even something that can be shown in one single image. There's a movement and a flow in Hawai'i. There's a rhythm in the sounds that you hear, and that's something that I feel film and moving images is the only way that I can fully express that.
What's your favorite thing to shoot?
I love shooting right after the sun sets and it's kind of like that blue hour. Dusk has a real eerie, mysterious feel to it. You have all these orange lights, but the sky is still really blue. I also love to shoot in the ocean. It's been a recent discovery, but I love the ocean because it's always different. Every wave that passes you is completely different than the one that came before. You're never going to get the same thing in the ocean, and I think that's something that I love, even with shooting with film photography in general, it's really hard to mimic. You have to let go of control because you don't know exactly what the ocean is going to give you, and you don't know exactly what the film is going to give you. It's like you're entrusting part of the creative process to the ocean.