The Allure of the Depths: Diving Deep with Alishiya Holland
For many in Hawai'i, fishing is a hobby, something fun to do on the weekends with friends and family. But for others like Alishiya Holland, fishing is a way of life, a religion that soothes the mind, body, and soul.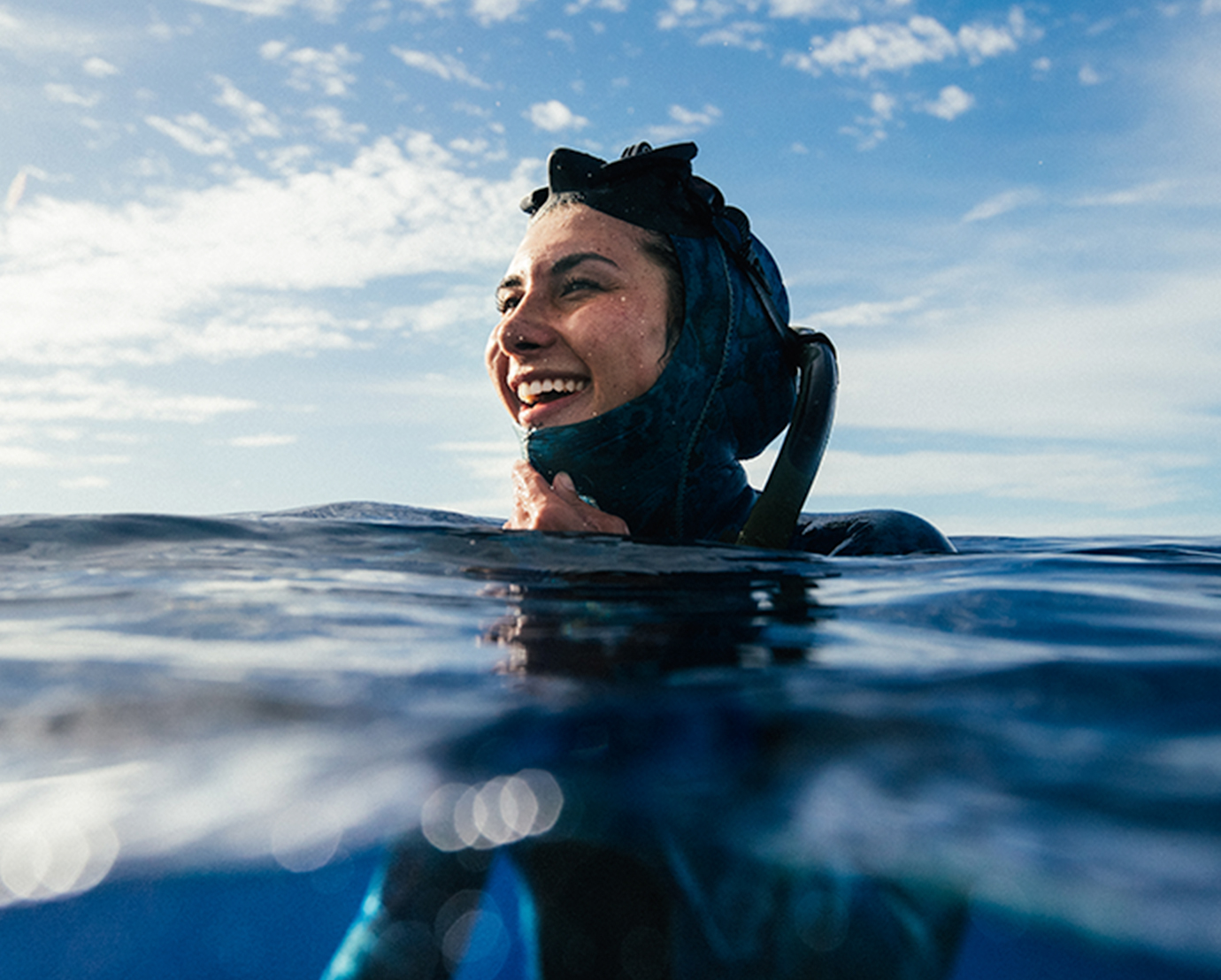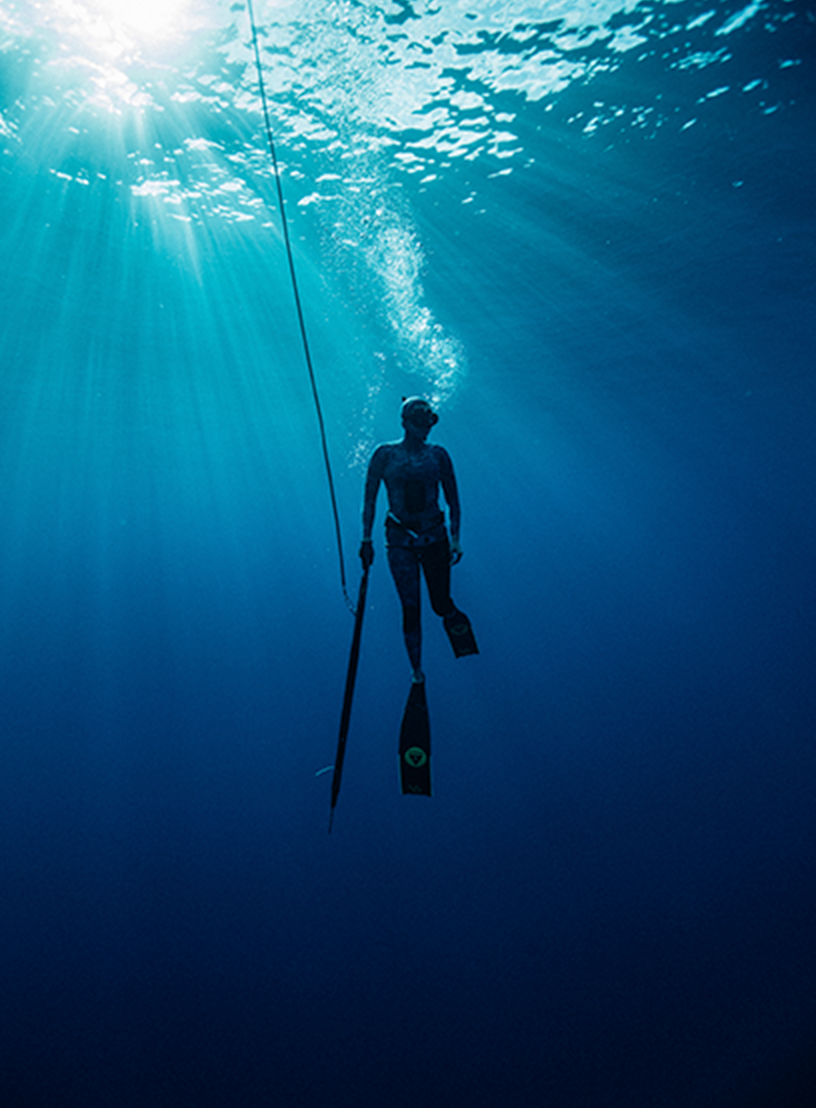 Born and raised in Hawai'i, Alishiya made her connection with Mother Nature and the aquatic world beneath the surface after moving to Kona, on the Island of Hawai'i. With her brother by her side as teacher and underwater guide, Alishiya learned to spearfish from the shallow reefs to the dark blue depths. She quickly developed a passion for the sport of spearfishing, as well as the discipline and dedication it required. Now, Alishiya dives three to four times a week, catching only enough fish for family, friends, and the mom-and-pop restaurants near her home. We caught up with Alishiya to talk about how fishing calms her mind through living in the moment, and how it has given her a new self-confidence and an empathetic perspective on life.
What attracts you to spearfishing?
It's the unknown—not knowing what's going to happen under the water and just taking it all in. It's a phenomenal thing and not everyone can experience this. 
What has it brought to your life?
Because of spearfishing, I've grown a huge appreciation for the ocean. It has taught me how to respect Mother Nature, how to respect the ocean and everything in it - and it all comes full circle when you catch something and eat it. I've also come to love the unknown—not knowing what's going to happen under the water and just taking it all in. Spearfishing is a phenomenal thing and not everyone can experience this. 
How do you prepare for each dive?
The morning of the dive I always make sure to wake up extra early to get mentally prepared. I eat a really light breakfast like a smoothie or oatmeal— something easy to digest—because I don't want to take up more energy than needed to digest. I try to keep the morning really simple and then head out there. When you're preparing for a dive, you always want to stay calm and relaxed. Moving slow is the best possible thing you can do underwater.
What are the benefits for staying calm and moving slow?
When you're in the water diving and spearfishing, slowing down is important because you want to slow down your heart rate. You want to use the least amount of energy as possible, so that you can hold your breath longer. When you can save more oxygen, the dive is just that much better. When you're in the water and calm, you take that last initial breath—a really deep one—and then you take that dive. When you're down there beneath the surface, it's the same thing. You want to move slowly because you don't want to scare the fish; you don't want to make any fast movements.
What does it feel like to catch your own food?
Being able to catch a fish and then bring it back and share it with everyone in the community just feels really good, for everyone and myself. Depending on what I catch and how much I catch, I'll either share it with friends and family—cut it up and just give it away or have a big barbecue—or if I catch a lot, I'll sell it to local family-friendly restaurants. It's part of respecting the fish and the ocean; I never waste anything. With the bones, you can make soup or broth, or I reuse it as chum. Cleaning the fish is a whole other process in itself; it's all part of learning to respect the fish if you're going to kill it and eat it. It feels amazing, honestly, and I never thought I could feel like that with catching a fish, cleaning it, and eating it after. The whole process is a big ordeal. It is a lot of work, but it's all totally worth it because when you share your catch, you meet amazing people all over that have the same mindset as you. 
Are there any women fishers that you really look up to?
Absolutely. Kimi Werner showed everyone, especially women like me, how we can do it. She's a huge role model; I watch her videos all the time. Because of Kimi, there's this huge increase in women diving and fishing
—it's really amazing to see that progress over the last 10 years. I think it's really good because if anyone enjoys it, no matter if you are male or female, you should do it. If you have a passion for it and you grow respect for it, you should definitely go out there and try it.