The Canoe That Crossed an Ocean of Cultures
"We thought that building a canoe of traditional materials would bring our entire community together—not just the sailors, but the craftspeople, artists, chanters, dancers and carvers," said native Hawaiian wayfinder, cultural practitioner, and President of the Polynesian Voyaging Society Nainoa Thompson, recounting his experience as project director for creating the Hawai'iloa traditional navigating canoe. "The Native Hawaiian Culture and Arts Program was set up to build not just a canoe, but a sense of community by recreating Hawaiian culture."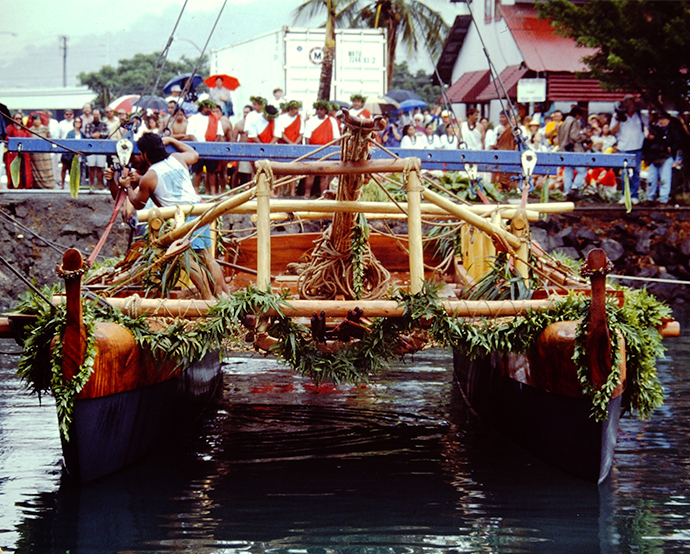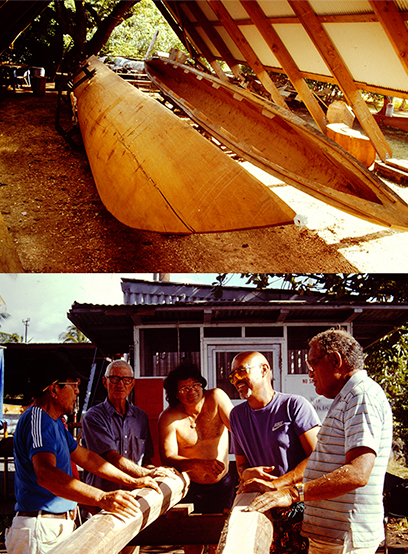 Beginning around 1970, a second Native Hawaiian Renaissance took hold across the Hawaiian Islands. Cultural practitioners were working with Native Hawaiian communities to revive traditional Hawaiian practices in farming, reforestation, the arts, music, dance, language, and traditional wayfinding ocean navigation. Nainoa Thompson, a trained master navigator in non-instrument navigation, was at the center of that movement as lead navigator aboard Hōkūle'a, a traditional Polynesian voyaging canoe built in 1975.
Having proved that it was possible to build and navigate a Polynesian voyaging canoe using traditional techniques—using currents and constellations as their guide—Nainoa and several others took on another challenge: to build an ocean voyaging canoe using native Hawaiian materials. The five-year process of constructing this new, double-hulled canoe would engender a new community of Hawaiian cultural practitioners and craftspeople who were dedicated to recovering knowledge and passing along the skills and culture associated with building a traditional canoe.
They named this new canoe Hawai'loa, for Polynesian voyager Hawai'iloa, who, according to one tradition, is said to have discovered Hawai'i while on a long fishing expedition. After returning home for his wife and his people and then returning to Hawai'i, he is said to be the father of all Hawaiians.
The most important task in crafting the Hawai'iloa canoe was sourcing the proper materials. They would need lauhala for the sails, ōlena for the lashings, 'ōhi'a for the crossbeams, hau for the stanchions, decks, and steering paddles, and koa for the twin hulls. More importantly, each hull needed to be carved from a single, massive koa tree trunk.
For two years, Nainoa and a small team searched Hawai'i Island, Maui, Kaua'i, and Moloka'i for suitable koa logs. Unfortunately, they couldn't find koa trees large enough for the hulls. Instead, they found forests depleted of native species, choked back by invasive plants and feral pigs, or even worse - no forest at all. Much of Hawai'i Island's native koa forests were clear-cut for ranching decades ago.
Nainoa and his peers looked to other indigenous cultures for a solution, and found common cultural ground with the Tlingit, Haida, and Tshimshian tribes of Southeast Alaska. These tribes had formed a corporation called SeAlaska in order to protect and preserve their important natural resources.
Even though these two indigenous cultures are separated by more than 2000 miles of open ocean, SeAlaska's CEO, Byron Maillot, immediately grasped the cultural connection and was willing to donate two Sitka spruce logs to the Hawaiians. "In your canoe, you carry all of us who share your vision and aspiration for a people to live and prosper with their future firmly built on the knowledge of their heritage and tradition," Maillot said.
In 1990, SeAlaska Forestry Manager Ernie Hillman located a stand of trees large enough for Hawai'iloa's hulls on Shelikof Island in Soda Bay, west of Ketchikan. The 200-foot tall trees, which measured seven feet in diameter, were over 400 years old. Nainoa and a delegation of cultural practitioners from Hawai'i traveled to Shelikof Island to receive the gifted spruce trees. Before the two trees were felled, a traditional Tlingit tree-cutting ceremony was performed to ask the forest gods permission to take the trees for the canoe, followed by Hawaiian chants to honor the life and sacrifice of the living trees.
The trees were shipped back to Hawai'i, and work on the canoe began in 1991. The canoe hulls were designed by Rudy Choy, Barry Choy, and Dick Rhodes. The rest of the canoe was designed by Nainoa Thompson, who was the acting project director, together with kahuna kalai wa'a (master canoe carver) Wright Bowman, Jr., and Wally Froiseth. Many volunteers helped with various tasks such as cutting, shaping, drilling, chiseling, sanding, painting and lashing.
The group did their best to utilize native Hawaiian materials, which were tested for all parts of the canoe. The hulls were carved from the two Sitka spruce logs, and koa wood was used for the bow and stern pieces, as well as the braces to keep the hulls spread apart, and lastly for the steering paddle and two steering blades. 'Ōhi'a logs were used to shape the seven crossbeams, two masts, two spars, and two booms, and the railings were made from hau logs. Coconut husk fiber was tested for cordage, but in the end synthetic cordage was used for strength and safety, as the art of making ōlena rope for lashing and rigging has been lost. Lauhala sails were woven and tested, but canvas sails were ultimately used during the voyage.
Working with these types of materials required the labor and knowledge of an entire community, a host of people performing different jobs to reach a common goal. The project further deepened the cultural roots of the Hawaiian community and brought greater awareness to the plight of Hawai'i's forests. Through Hawai'iloa, Nainoa had succeeded in creating an important part of Hawaiian culture. 
On July 24, 1993, the canoe finally launched. It was sea-tested, dry-docked for modifications, and relaunched in July 1994 for more sea trials before its maiden voyage to Nuku Hiva, the largest of the Marquesas Islands in French Polynesia. In February 1995, Hawai'iloa departed from Hilo Bay on its maiden long-distance voyage, sailing side-by-side Hōkūle'a. It was the first time in modern history that a fleet of Polynesian canoes sailed together over an ancient voyaging route.