The Descendants
At first glance, New Orleans and O'ahu couldn't seem farther removed, separated by far more than an ocean and thousands of miles.
Look closer though and you'll find both are defined by traditions handed down through generations and a welcoming and joyful spirit. Austin Kino from the south side of O'ahu, and Calvin Johnson, New Orleans native, met recently to explore each other's home base, walk in each other's shoes and share stories of these special places defined by generational legacy.
In New Orleans, Calvin—proud third generation jazz musician—introduced Austin to the city he loves: a feast of music, creole food and vibrant street life. They explored the French Quarter, snacked on beignets and gator bites and soaked up the music that saturates the city. "I wanted them to experience what we do, the kind of music that's our music, our folk music," said Calvin. "That's the family business. I've got music on both sides of my family." The sound of New Orleans gets into your bones. On a stroll through Jackson Square, they bumped into a band Calvin knew and he grabbed his sax and jumped right in. It's the evening though when this town truly comes alive. Later that night, Calvin and his sax whipped a club crowd into a frenzy. "Everyone was up out of their seats," said Austin.
Austin grew up surfing, swimming, and paddling near Waikiki, just like his grandfather. These days he's a crewmember on Hokule'a, the legendary double hulled sailing canoe of the Polynesian Voyaging Society. Over many years he has apprenticed in traditional wayfinding—instrumentless navigation—and has crewed aboard Hokule'a during its current historic Worldwide Voyage. "What separates us who are learning from the masters is being confident of that feeling of the boat underneath your feet, hearing the water on the side of the hull," said Austin. "To be able to re-center yourself to that alignment is a really, really refined skill."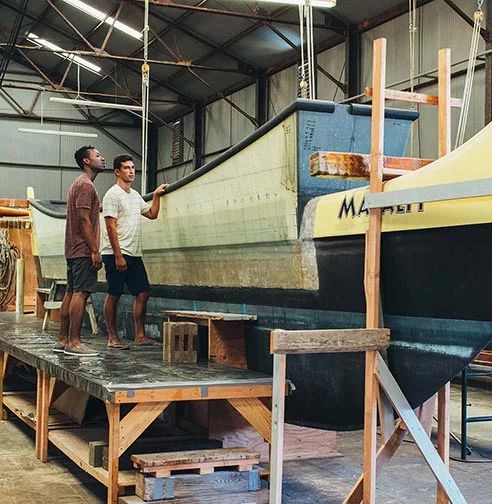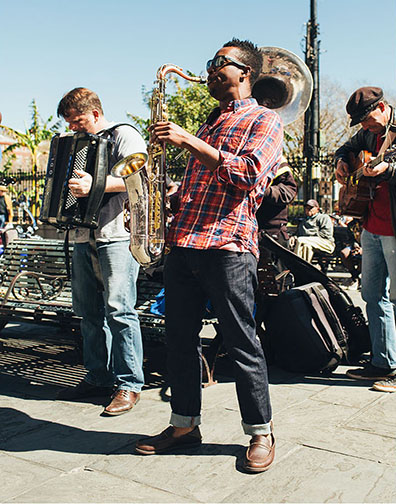 Photos by OluKai
Calvin and Austin flew from New Orleans—music still ringing in their ears—to the Big Island for the insider's tour: snorkeling, star gazing and a visit to the workshop of the Makali'i voyaging canoe. Calvin peered deep into the waters of a secluded cove and marveled at the riot of colorful shells, coral and fish to be found in the depths. Not a natural ocean swimmer, he followed Austin's lead into the shimmering blue. "If you're gonna ever live, that was the place to live," Calvin recalled. At sundown, off in the distance, a whale and her calf breached, the clap of her fin on the water echoed around the cove. The next day from above the clouds on the top of Mauna Loa, Calvin watched the light fade and the stars emerge. "Man, it was just gorgeous," he said. "That was the clearest display of the galaxy I've ever seen."
With a broad world of opportunities, both Calvin and Austin followed paths forged by their forbearers. "This is a unique place where a lot of the history and culture and customs are in the people," said Calvin of his hometown. He recognized this on the Big Island as well. "There's a high respect for tradition, and for mentoring relationships and for the oral transference of history," he said. For Austin and Calvin, these traditions are gifts—treasures to be passed down and shared freely with visitors.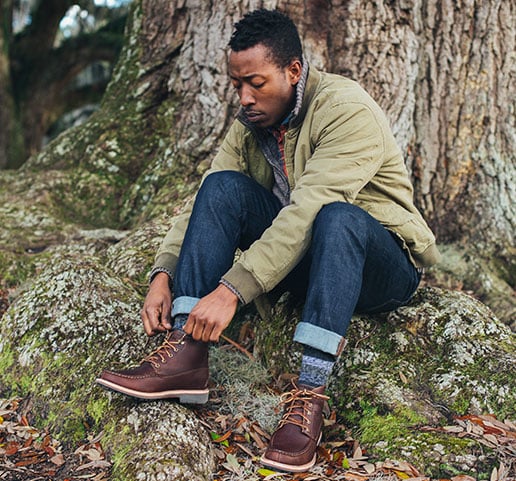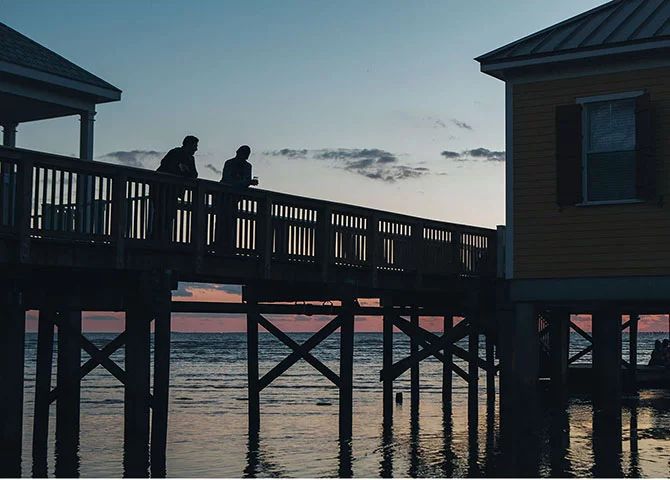 Photos by OluKai